Sustainable Development
In September 2022, Gobi JSC received certification after successfully implementing the International Occupational Health and Safety Management System ISO45001:2018 and Environmental Management System ISO14001:2015 standards.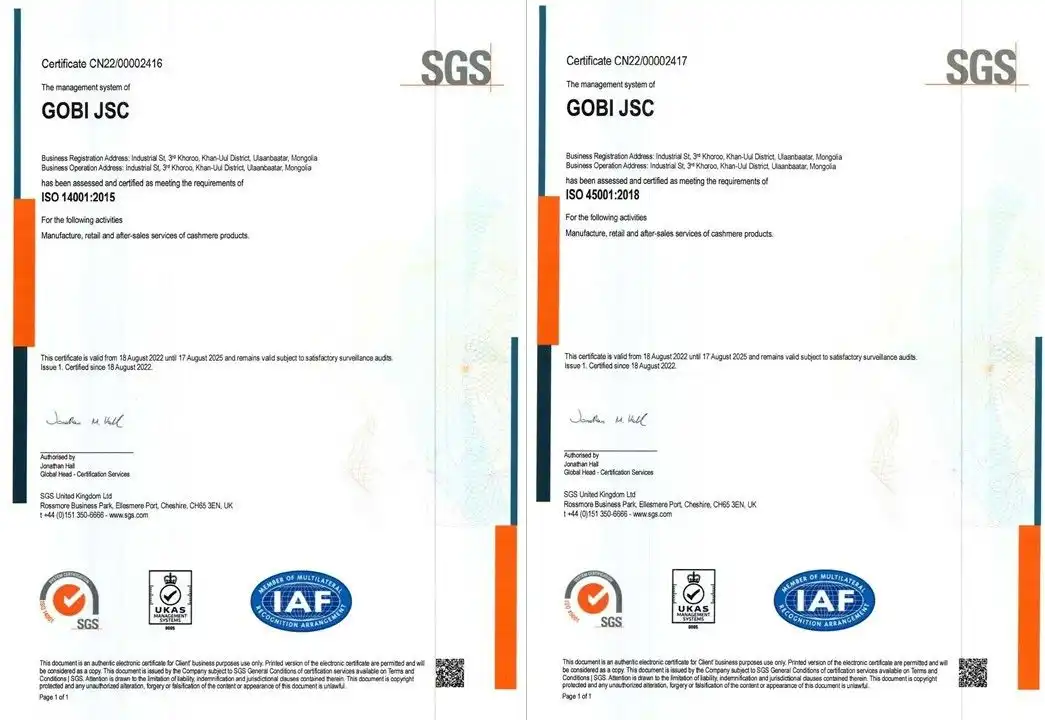 ISO 45001:2018 AND ISO 14001:2015 STANDARDS
Within the scope of this goal, we can create a healthy feedback loop by coordinating and adapting indicators that are critical to long-term development at each stage of operation. As a result, our company's business activities will become more and more solid in the long run, and we will become a wealth creator that can be passed down to the generations to come.
Accreditation and Certificates
"SILVER AWARD"
Gobi JSC received a "Clean fiber processing code of practice" or C003 standard "Silver award" from the SFA. This is to certify that the stages of sorting, washing and combing of the raw cashmere in Gobi JSC are all in compliance with the C003 standard, and adheres the sustainable principles in accordance with certain criteria such as labor safety, human resources management, and environmental friendliness.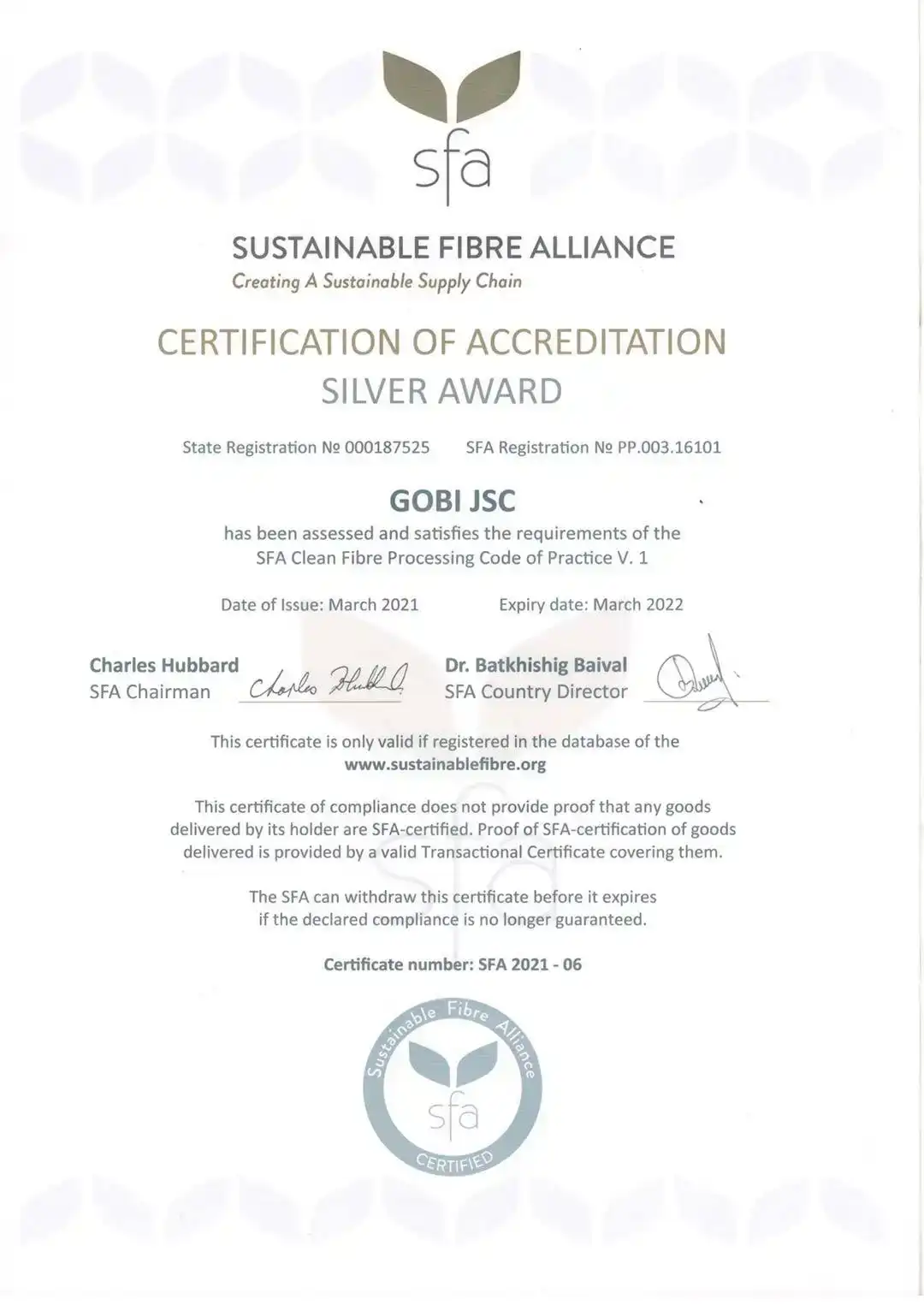 MEMBER OF THE "SUSTAINABLE FIBRE ALLIANCE"
With an aim to create world-renowned Mongolian sustainable cashmere production, the "Sustainable Fiber Alliance" (SFA) is an organization for support and cooperation in the regeneration of nature and pasture resources, providing a friendly living environment for animals, increasing the efficiency and stability of each participant in the supply of cashmere from herders to retailers. Our company is a member organization of SFA.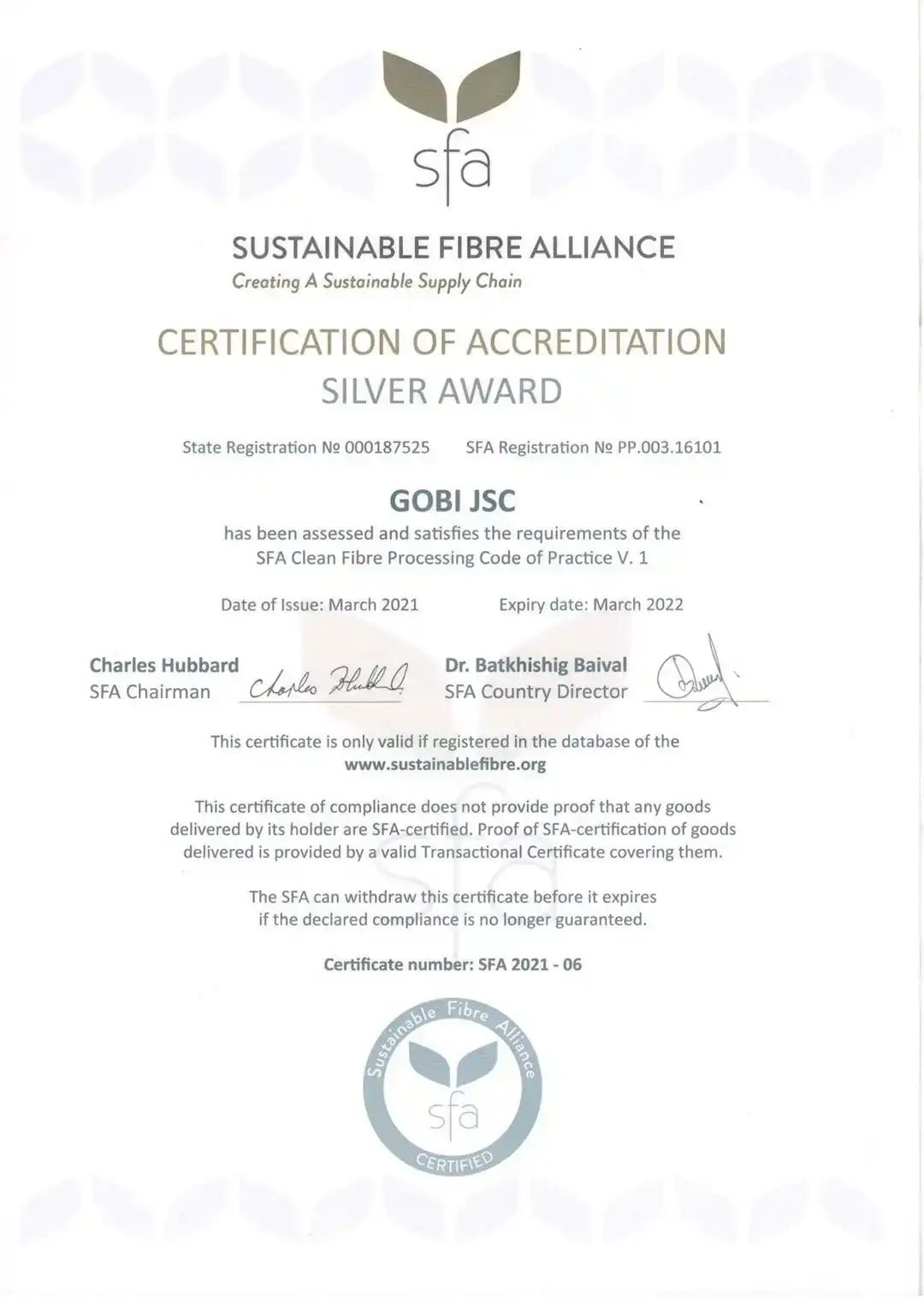 GOBI JSC JOINS THE "VOLUNTARY CODE OF PRACTICE FOR SUSTAINABLE TEXTILE PRODUCTION"
In 2021, in order to demonstrate our dedication to environmentally and socially responsible sustainable production, we joined the "Voluntary code of practice for sustainable textile production", which was created as a result of the collaboration of The Mongolian Wool and Cashmere Association and the Sustainable Texture Production and Eco Label Project (STeP EcoLab).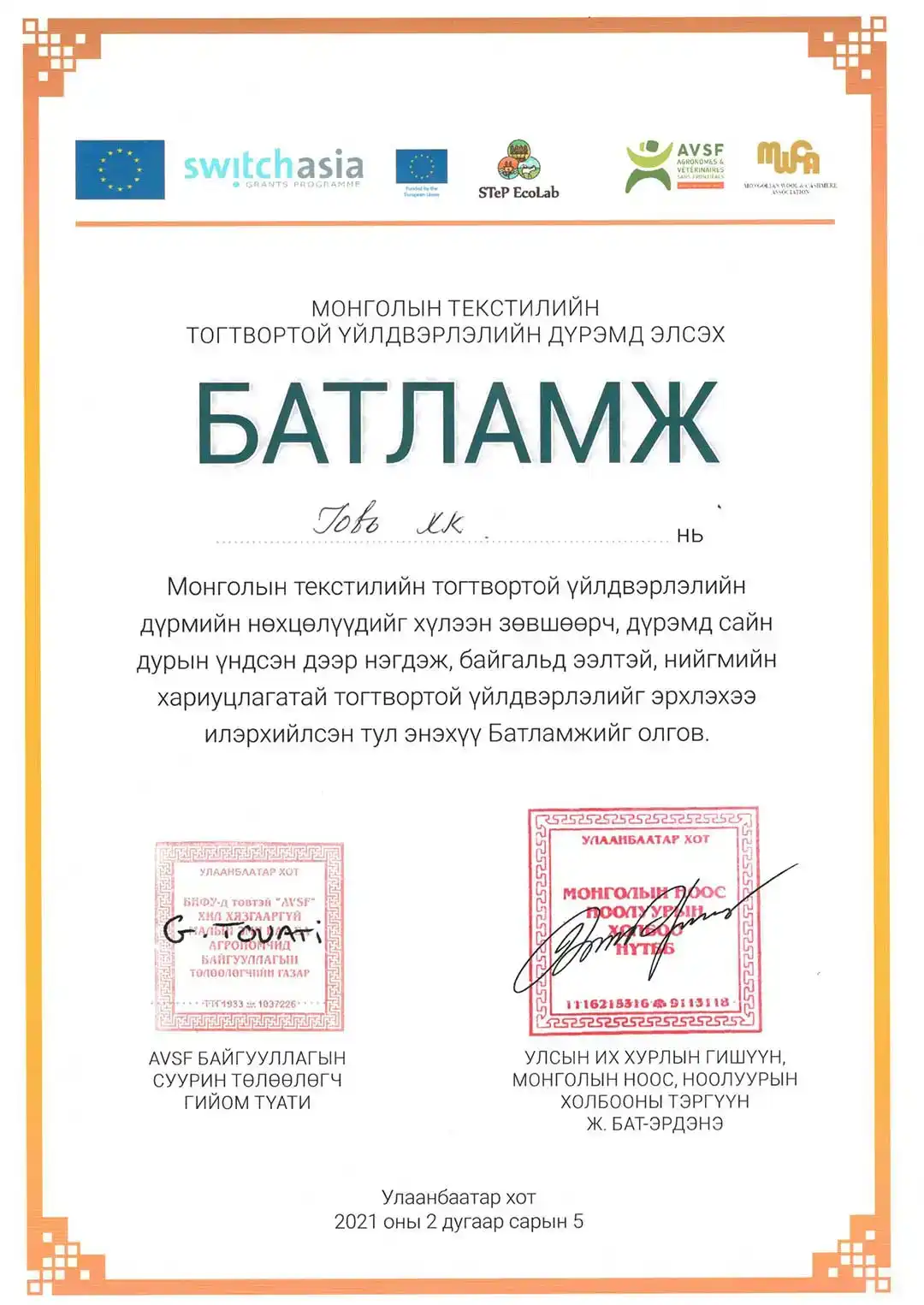 Gold Certification
The Gobi JSC Primary Factory participated in the evaluation of compliance with the "Pure Cashmere Processing Practices" of the UK-based "Sustainable Fiber Alliance" (SFA) in the fourth quarter of 2021 and was awarded "Gold Certification" for the second time. Raw materials are sorted, washed, and combed in the primary factory to demonstrate to customers that we follow labor safety regulations, human resources management policies, and environmentally friendly manufacturing practices.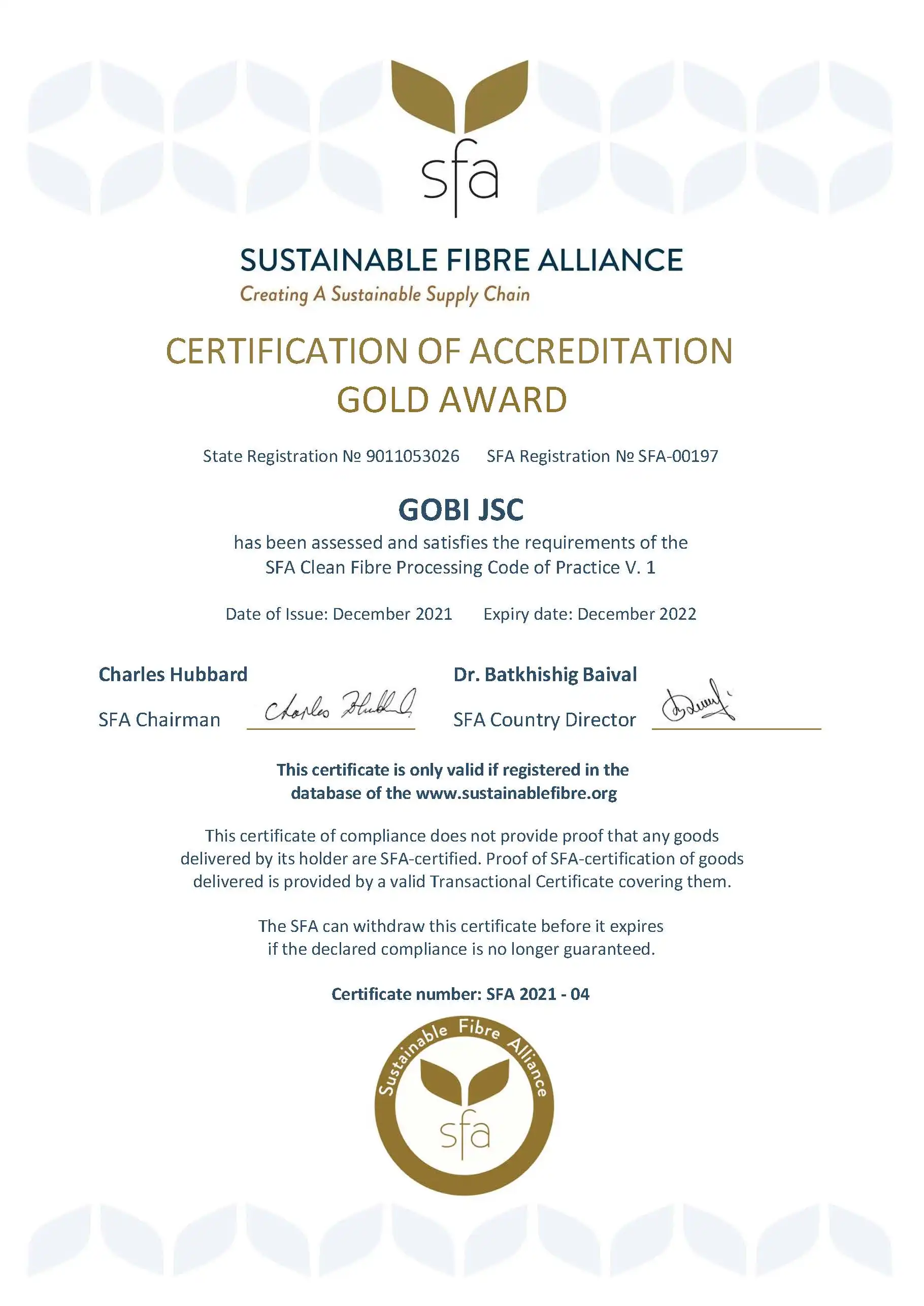 Our Enviromental Policy
Within the scope of this goal, we can create a healthy feedback loop by coordinating and adapting indicators that are critical to long-term development at each stage of operation. As a result, our company's business activities will become more and more solid in the long run, and we will become a wealth creator that can be passed down to the generations to come.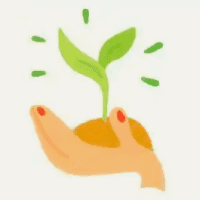 We will implement GREEN POLICY at all stages of our operations in accordance with Mongolian Environmental Law and relevant regulations and standards.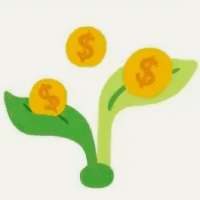 We prioritize leaving as little environmental impact as possible by utilizing cutting-edge technology, promoting environmentally friendly GREEN PURCHASE, and managing our operations in an efficient manner.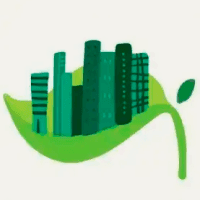 We will practice GREEN CULTURE by respecting our customs and traditions while also improving our employees' environmental knowledge and perception.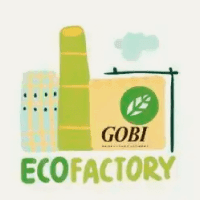 We will work continuously to develop a GREEN SYSTEM for environmental management by being environmentally friendly and using the least amount of resources.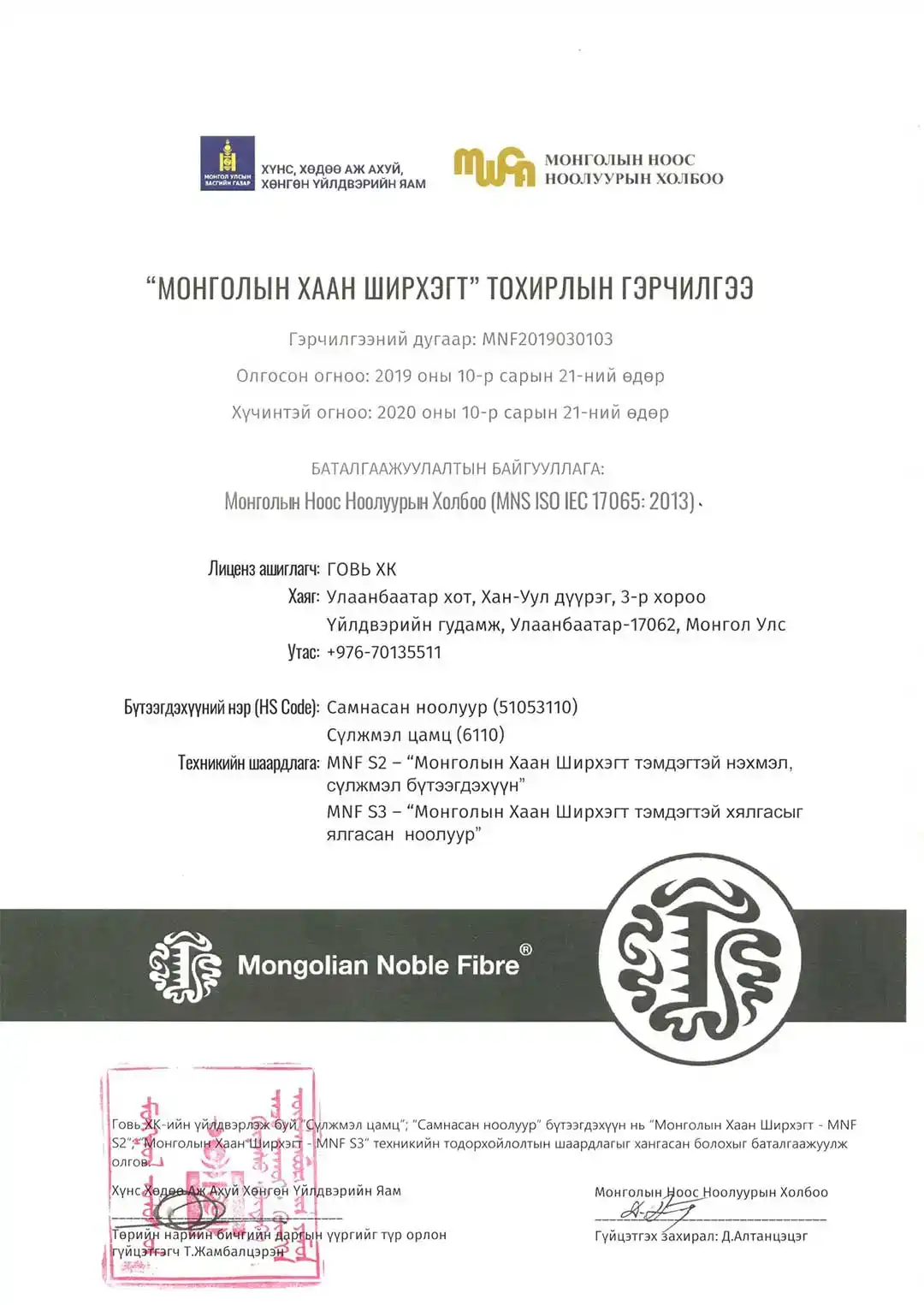 "MONGOLIAN NOBLE FIBRE" CERTIFICATE OF CONFORMITY
The "Mongolian Noble Fibre" certificate of conformity confirms that the product is of the highest quality, fully complies with all requirements, and is entirely made of Mongolian cashmere. It also confirms that the product was produced in accordance with international standards, is environmentally friendly, and confirms the quality and origin of wool and cashmere products. GOBI received the "Mongolian Noble Fibre" certificate of conformity for its combed cashmere and Whole Garment base.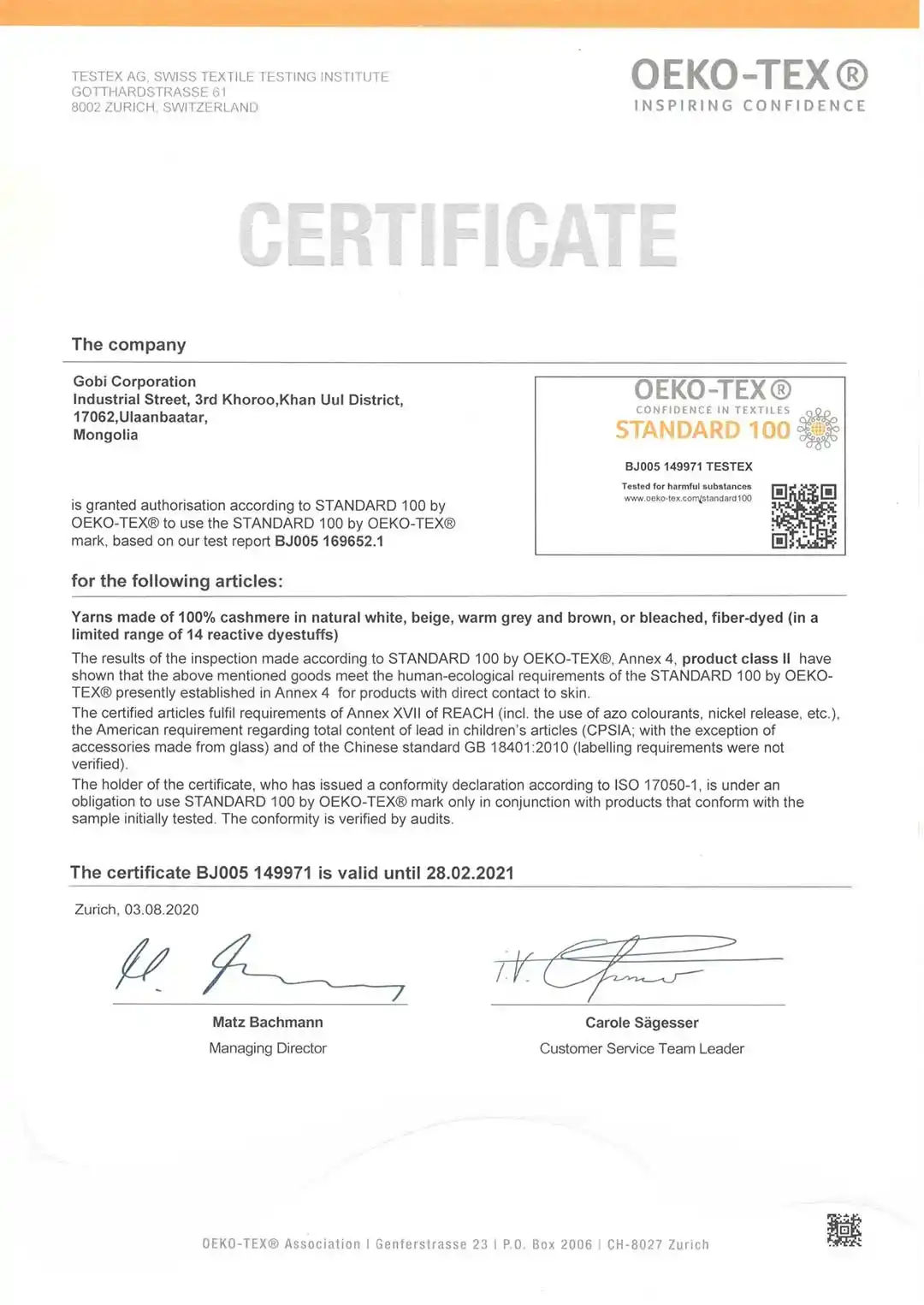 "OEKO-TEX" CERTIFICATE
The spun yarn created by Gobi JSC was recognized by the OEKO-TEX organization, based in Zurich, Switzerland, as fulfilling the requirements of the "STANDARD 100 by OEKO-TEX" for a second year in a row in 2021. This certification provides consumers with the assurance that the spun yarn made by Gobi JSC is completely safe for human health and devoid of any harmful chemicals.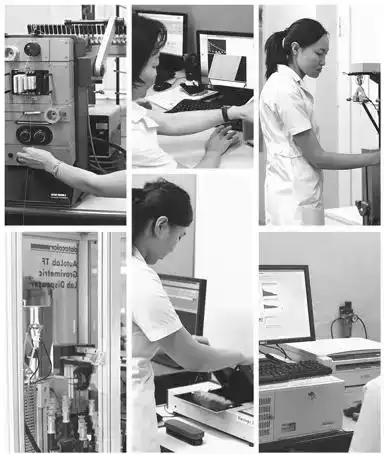 ACCREDITED LABORATORY
The Gobi JSC's lab, "Central laboratory of the Gobi industrial complex," was founded in 1981. The Gobi laboratory received its official accreditation and 01 numbered stamp in 1999, marking a first for Mongolia. External evaluation is conducted by the Research and Development Institute of Light industry under the Mongolian University of Science and Technology and other international laboratories such as "SGS", "INTERTEK", and "KEKEN". The laboratory consists of the following groups: • Wool and cashmere testing laboratory • Dyed wool and cashmere laboratory • Yarn laboratory • Fine spinning laboratory • Peeling laboratory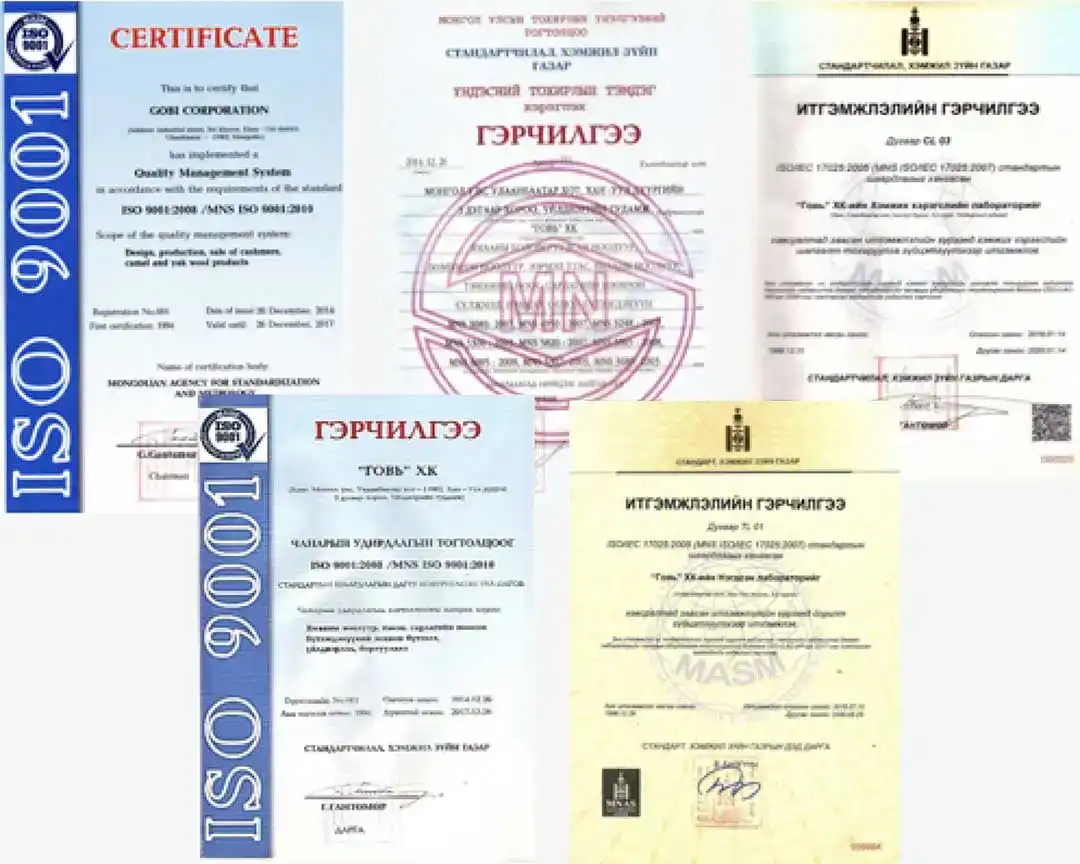 SUSTAINABLE MANUFACTURING
At all stages starting from receiving raw materials from herders to manufacturing the final product, we test the quality using a total of 230 indicators, adhere to the technology policy, manufacture and approve products under international standards ISO 9001:2008/MNS ISO 9001:2010, ISO/IEC 17025:2005/MNS ISO/IEC 17025:2007, and deliver to domestic, international, and online customers. We implement the quality management system at every stage of production, adhering to 85 MNS quality standards, four company policies, 118 regulations, standards, technological procedures, and work instructions, 100% quality control, and continuous improvement of the quality management system.
Our Occuptional Health And Safety Policy
By implementing the "Safety First" principle in our operations, managing occupational health and safety risks, providing necessary resources, improving work conditions, and increasing employee participation, we improve our OSH knowledge and abilities.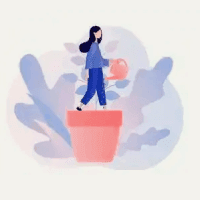 Human resource development: We establish a Qualified OSH CULTURE by continuously improving all employees' knowledge and participation in occupational safety.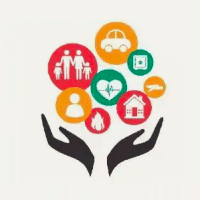 Workplace health and safety: We support operations aimed at "ENSURING THE HEALTH" of all employees.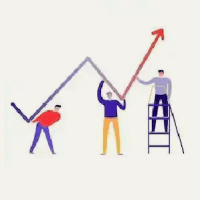 Leadership: By adhering to the "non-accusation principle" and increasing the number of new proposals, initiatives, and employee involvement, we make each employee a leader.
Risk management: We strive for "Accident= 0" by implementing a risk management system aimed at eliminating and reducing potential OSH risks associated with the company's operations.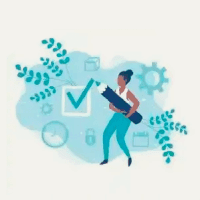 The company's occupational safety and health management system: By incorporating international systems into our operations, we create and continuously improve our OSH System.
ISO STANDARD
"Gobi" JSC has begun implementing the following Unified Management System standards in the company in an effort to become a globally renowned business based on the concept of greening the direction of business development and sustainable development: International Quality Management System ISO9001:2015 Occupational health and safety management system ISO45001:2018 Environmental management system ISO14001:2015 We have finished the project initiation, planning, implementation, and monitoring phases of our organization's Occupational Health and Safety Management System and Environmental Management System standards, and we are now getting ready for the management analysis and project closing (certification) phases. Due to the COVID-19 pandemic's spread, a certification audit for the international quality management system project is expected to be conducted by 2021.
"SUSTAINABLE CASHMERE TRIPARTITE PROJECT"
Gobi JSC has been implementing the "Sustainable cashmere tripartite project" since 2020, in collaboration with scientists from the Mongolian University of Life Science and herders, with the goal of strengthening cooperation between manufacturers, scientists, and herders, carrying out livestock health, herding, breeding, and selection work on a scientific basis, using the best breeding inseminator, and improving raw cashmere quality by training herders.